What is Pilates?
Pilates is a system of exercises created by Joseph Pilates in the early 20th century designed to strengthen, stretch and balance the body. Mr. Pilates created his exercises to be performed on the mat as well as on the many different pieces of equipment he designed and built. The most widely used pieces of large equipment found in studios today are the Reformer, Trapeze, Chair, and Ladder Barrel. The versatility of the Pilates method and equipment allows for the exercises to be modified to fit everybody's needs and abilities.
These one hour long one-on-one sessions are tailored to your individual goals and needs. The individualized attention helps you understand more thoroughly the essence of the exercises and can push you to just the right level to create physical and even neurological change.
The sessions can take place in a studio with access to the Pilates equipment or at your home on a mat.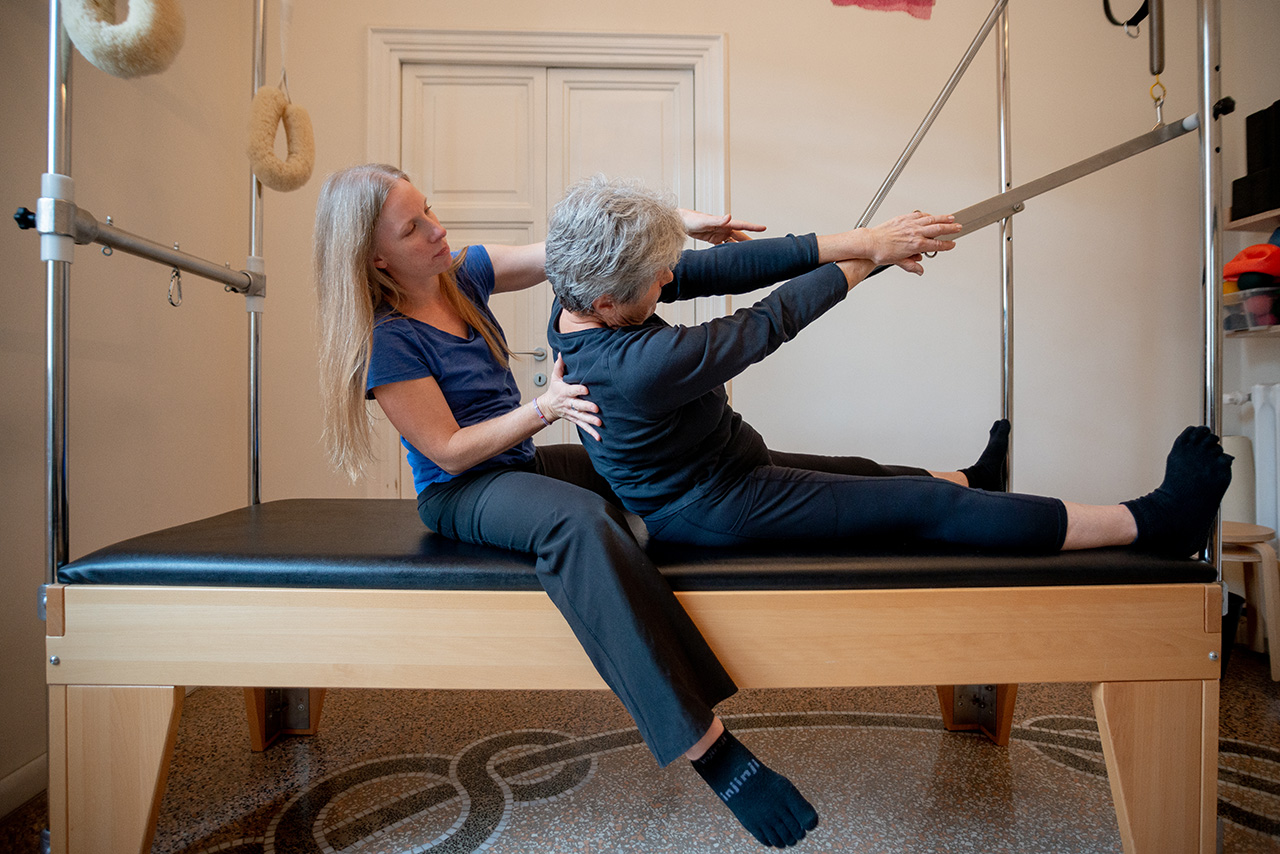 These are flowing, faster paced, small group sessions in which the exercises are executed using the "reformer" (one of the pieces of Pilates equipment consisting of a spring resisted moving carriage).
The small size of the group (4-6 people) allows for a more personal feel and the mechanics of the reformer give an adjustable amount of resistance or assistance to each person depending on ability and on the exercise type.
These group classes focus on exercises created by and/or inspired by Mr. Pilates. The wide variety of exercises are preformed supine, prone, side-lying, sitting and even standing. Often small props such as a ball, foam roller or elastic band are used to add resistance or a level of difficulty. I like to spend extra time working on spinal and shoulder mobility, and balance.
These lessons take place via video call.  While observing and providing verbal cues I can guide you through a movement session with the same attention to detail and precision as in the studio.  Online lessons are a way for you to start or continue your practice from the privacy, comfort and convenience of your own home.  I am available for private sessions, couple sessions, or small groups of maximum four people.